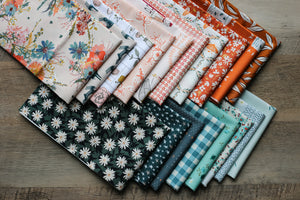 This is a curated fat quarter bundle that was used to create the Summer's End Ramona quilt for the September Pattern of the Month. It features a beautiful selection of fabrics from Art Gallery Fabrics, curated specially by Penelope Handmade.
18 FQs
Simple Living
Bee Wreath
Handkerchief Spruce
Small Plaid of my Dreams Spruce
Olivia Celeste
Midnight Wishes
Lilas Pressed Flowers
Fireflies Glow Metallic
Nostalgia Meadow Rust
Dancing Daisies
Hyde Park Fresh
Painted Prairie Cornucopia
Calico Days Aqua
Hopping Hare
Meeting Place Blushsky
Rambling Rose Briar
Patchwork Revival
Vine Starling
Note: This is *not* the same as the Ramona quilt kit. It will only contain the FQs used in the kit.